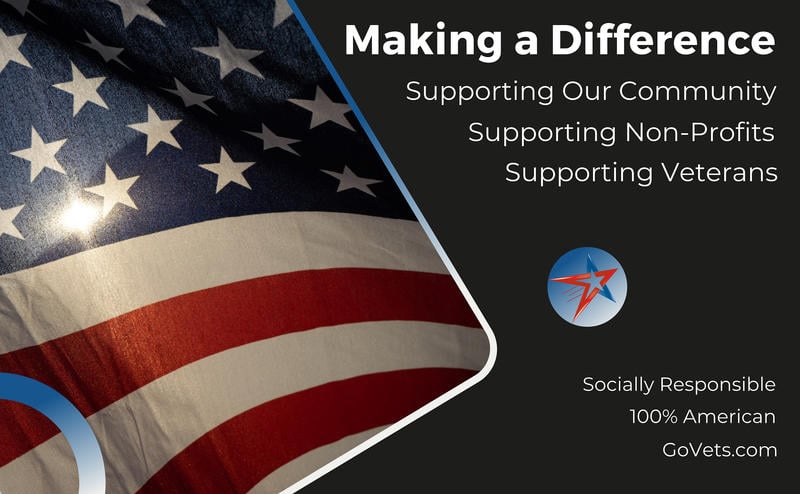 Making a Difference for GoVets Shoppers
Over the past year, GoVets has had a positive impact on our Government customers, Enterprise customers and Patriotic Citizens by enabling our Online Store to become a viable source of supply during the pandemic. As such, our technology platform, automation and artificial intelligence (AI) tools evolved to accommodate the constant changes, fluctuations, shortages, and various backorders for millions of products located in warehouses and manufacturing facilities throughout the country. Given the inflationary nature of our business and our distributed supply sources, we are continuously updating our tools, technology, prices and product offerings based on real-time data and feedback we receive from our suppliers, shipping partners, and even our customers. Over the past year, we made a strategic (and perhaps lucky) decision to invest in supply-chain innovation instead of warehouses and inventory. This decision is now paying off and enabling the company to thrive in a very chaotic and unpredictable environment where so many of the "big-box" retail establishments are publicly communicating their inventory struggles and supply chain bottlenecks.
Providing a Viable, Socially Responsible, US-based Shopping Alternative
The GoVets Team also doubled down with an expansion of our USA-based Customer support organization and the use of best-of-breed customer support tools and artificial intelligence to maximize the productivity of our growing support team and our ability to respond to customer requests, tickets and general inquiries. As a socially responsible company with a mission to support Veteran Non-Profit organizations of National Significance and support U.S. businesses, we have demonstrated our commitment by hiring only USA-based personnel. This decision has paid off as it has allowed us to improve our trust, relationships and communication with our customers and suppliers. Our strong internal culture - built on transparency and communication - has allowed us to obtain valuable feedback from our support staff who is always monitoring and communicating tactical updates regarding product availability trends and helping to optimize our processes and workflows with our suppliers.
Making a Difference for Veterans
As a socially responsible organization, GoVets contributes proceeds to Veteran Non-Profit organizations of National Significance. Despite recent pandemic-related challenges that have impacted the economy, our supply chains and our own company, we have continued to stay true to our cause and mission in several ways over the past year. Our contributions to Veterans Non-Profit organizations of National Significance have evolved from exclusively donating proceeds to non-profit causes such as the National Veteran Small Business Coalition (NVSBC), Service-Disabled Veterans Medical Product Group (SDVMPG), and Eternal Endurance to donating company resources and launching Giving.GoVets to enable our community of over 200,000+ customers to make a major impact on the Veteran community for years to come!
GoVets Contributions to Non-Profit Organizations
Over the past year, GoVets staff members have donated time and knowledge to an important non-profit partner to set and maintain their website and partner portal. As a small business with limited resources, we have adhered to our mission and allocated resources to support our non-profit partner by standing up and provide ongoing website (sdvmpg.org) maintenance for the Service-Disabled Veterans Medical Product Group (SDVMPG), who has several important goals, such as:
Providing ongoing support for advancement in Veteran's healthcare,
Ensuring Service-Disabled Veteran-Owned Small Business (SDVOSB) participation to the maximum extent possible, in all government medical procurements in the future.
Similarly, another example can be shown by our commitment to local non-profit veteran/first-responder organizations. First, we decided to provide discounted office space to a local 501(c)(3) Non-Profit, Eternal Endurance, whose mission is Leverage innovative interventions in Mental Health, Physical Fitness, & Community Building in order to reduce the Suicide Rate among American Vets to ZERO. Similarly, we have provided time and resources to help them become a successful online retailer to further help their cause. We have also donated funds to the Satellite Beach (Florida) Police Athletic League (PAL), where one of our owners also dedicates several hours each week to coach one of the youth girl volleyball teams. Finally, over the past year, members of our staff participated in multiple events to help the local chapter of the "Veterans Memorial Center" and the local soup kitchen to help veterans and others in need.
The GoVets Giving Initiative - Enabling Giving to Non-Profits At Scale!
One of our most exciting updates is the launch of a new program - a true Game-Changer when it comes to enabling our customers and partners to show their support for the Veteran community. In-work for several months and known as GoVets Giving, this initiative will officially be launched and fully operational in October, 2022. The GoVets Giving Initiative will allow GoVets customers to search through hundreds of Pre-Vetted 501(c)(3) Non-Profit Veteran causes and know that their purchases and/or purchases from anyone in their referral network will directly result in a contribution being made by GoVets to their chosen Non-Profit cause. Customers will be able to track GoVets Giving contributions to their Non-Profit cause and know that they're making a difference in the Veteran community in several ways:
Direct purchases on GoVets,
Purchases made by anyone in their referral network,
Purchases made by subsequent (downstream) referrals within their referral network.
These benefits, coupled with the new GoVets Medallion Program, will reward our customers and their chosen Non-Profits with virtually unlimited GoVets Cash Rewards and contributions, and ultimately allow anyone to participate in helping to support our growing Non-Profit Veteran Community.
Business Overview
GoVets is the Nation's Largest Veteran-Owned Online Super Store. We offer millions of products with 100% free shipping within the 48 contiguous United States. Our product categories include Information Technology, Office Supplies, Maintenance, Repair, Operations, Personal Protective Equipment, Medical and Health, and more. Our target customers include government buyers (local, state, federal), small to medium size businesses, enterprises, academic institutions, and patriotic consumers. As a socially responsible business, we contribute a portion of each sale to veteran non-profit causes of national significance. GoVets is owned/operated by Veratics, Inc (est. 2013), a VA-Verified Serviced-Disabled Veteran-Owned Small Business (SDVOSB)