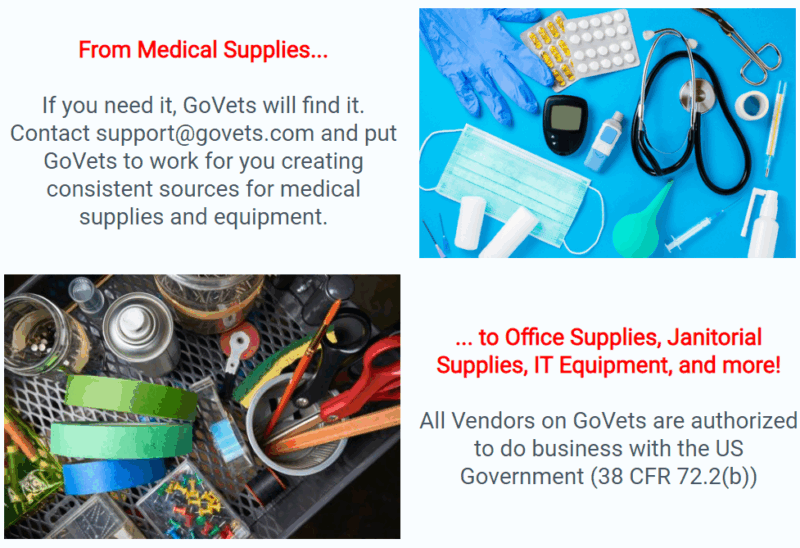 Develop Consistent Supply Sources from Over 70 SDVOSB Vendors in one Place ... and Growing!
The National Veteran Small Business Coalition (NVSBC), the nation's largest non-profit trade association representing veteran and service-disabled veteran owned small businesses, is proud to present GoVets, your online marketplace for developing consistent supply sources from 100% VA-Verified Service-Disabled Veteran-Owned Small Businesses (SDVOSB). Please click on the button below to view the GoVets welcome packet containing the following items:
Welcome letter from Mr. Scott Denniston, NVSBC Executive Director

Announcement memo from Mr. Tom Leney, VA Executive Director of Small and Veteran Business Programs

How to Use GoVets Handout for Department of Veterans Affairs Purchasing Agents
From Medical Supplies...

If you need it, GoVets will find it. Contact support@govets.com and put GoVets to work for you creating consistent sources for medical supplies and equipment.

... to Office Supplies, Janitorial Supplies, IT Equipment, and more!



All Vendors on GoVets are authorized to do business with the US Government (38 CFR 72.2(b))
If you need any help using the platform or need help developing consistent supply sources from your SDVOSB community:
Email support@govets.com or call 866-321-6321.