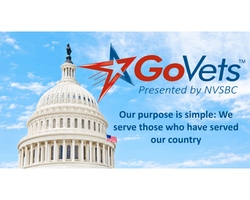 Mr. Scott Denniston, as the Director of the largest not-for-profit trade association for Veteran owned businesses, the National Veteran Small Business Coalition (NVSBC), provides regular updates to Congress regarding issues impacting our Veteran business owners. To address those issues NVSBC brings proactive initiatives such as GoVets. GoVets is the only electronic ordering platform that brings 100% VA-Verified Service-Disabled Veteran-Owned Businesses (SDVSOB) together in one place with access to hundreds of SDVOSBs selling millions of products to the Government.  
March of 2018 was the first time that Mr. Denniston briefed Congress regarding GoVets. The following short video clip shows Mr. Denniston's testimony announcing to GoVets to the House Veteran Affairs Oversight and Investigations Subcommittee:
In June of 2018, Mr. Denniston reported to Congress that GoVets exceeded our commitment to the VA of having 40 SDVOSBs on GoVets. The following short video clip shows Mr. Denniston's GoVets testimony to the House Small Business Committee:
In the near future, Mr. Denniston is going to be making a trip back up to the Hill to report our recent success reaching the M100 milestone (1 Million products from 100 SDVOSBs on GoVets). We are making great progress toward our goal of having ten million products from 1000 SDOVSBs! 
Our purpose is simple: We serve those who have served our country. At GoVets, every order you place goes directly to a verified veteran seller. We are not a "middle man" - we are simply a resource for Service-Disabled Veteran-Owned Small Businesses.